Craft Lagers
Worth Remembering
We pride ourselves on our time-honoured brewing process and commitment to creating distinct craft lagers. We put the same efforts towards hosting all those that walk through our doors, ensuring each visit to any of our locations is worth remembering.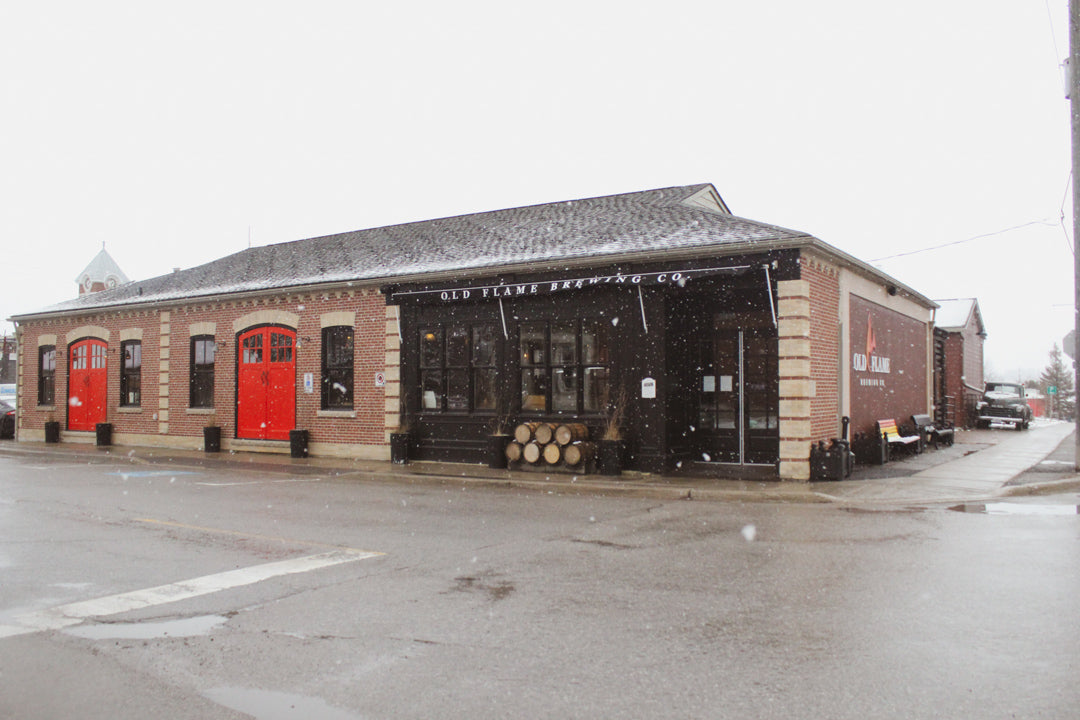 Port Perry
Our flagship location and beloved hometown. If you've never been to Port Perry, we encourage you to visit our community and witness the small-town magic. Nestled in the historic downtown, the building housing Old Flame was originally built in 1884, and began as an Ontario Carriage Works factory. Our building has a rich history with our township, and we work to preserve and pass on its stories. Whether you join us for a couple flights and live music, a tour to hear the history and process of Old Flame, or to simply pick up a few cans to go, we promise you'll have an experience worth remembering.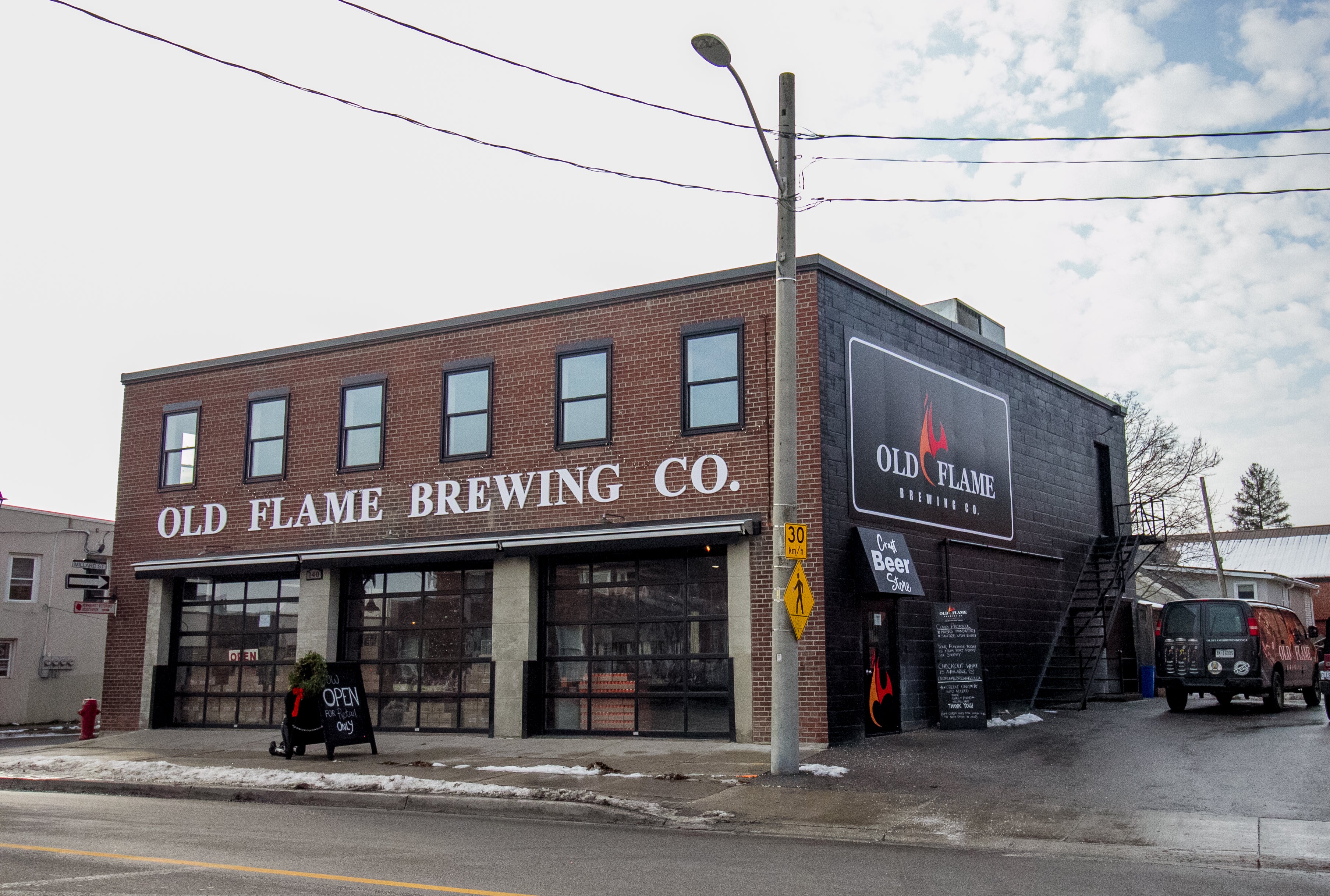 Newmarket
The story of Old Flame comes full circle with the opening of our Newmarket location. The Old Flame Ale House, sits at the top of the hill in Downtown Historic Newmarket, overlooking the bustling streets and local community. Lovingly and locally known as "The Old Fire Hall", we are committed to preserving the history of this building just as we have done in our flagship location. Our Newmarket space features an operating brewhouse, taproom, remote working area for local residents and a community event space. We are so looking forward to welcoming new faces and familiar fans in our newest location!
Our History
The historical building housing Old Flame Brewing Co. at our flagship location in Port Perry was originally built in 1874, beginning as the Ontario Carriage Works. It was here where horse-drawn carriages were manufactured locally in the late 19th century. The building also served as a wood shop and blacksmith's forge during this time. Beginning in the early 1900s, the building changed hands and uses several times. It became home to a Massey-Harris dealership, a shoe factory, a lumber yard, a farm equipment supplier, and a textile factory, before converting to its most recent use as Port Perry's LCBO, in 1976.
Before settling in our home of Port Perry, our Founder originally sought The Old Fire Hall in Newmarket to house the brewery, before learning it was unfit for occupancy. Port Perry was a town near and dear to his heart, thus pursued the opportunity to open a brewery in the small town. Seven years later, The Old Fire Hall in Newmarket became available for occupancy again. In a twist of fate, Old Flame opened the doors to their second location in December 2020, bringing the story full circle.
Old Flame moved in September 2013 and became dedicated to telling and preserving the building's rich history. Renovations took 11 months to bring the building back to its original grandeur, and the doors to the brewery finally opened.
Uncovering the Past
During the painstaking revitalization of our flagship location in Port Perry to restore the building to its grand former self, its original post and beam structure was uncovered, along with century-old brick and burnt timber from a historical blaze. Repurposed industrial equipment, salvaged local 'pickings' and signs of yesteryear furnish our tasting room, giving our brewery a warm character that is worth remembering.
Almost all the picturesque decor in both of our tasting rooms have a story. Our breweries have become a museum of local antiques, keeping the rich history of our townships alive. This carefully curated atmosphere is paralleled only by the quality and taste of our traditional handcrafted lagers and specialty beers. Here at Old Flame we believe in drinking to remember instead of drinking to forget.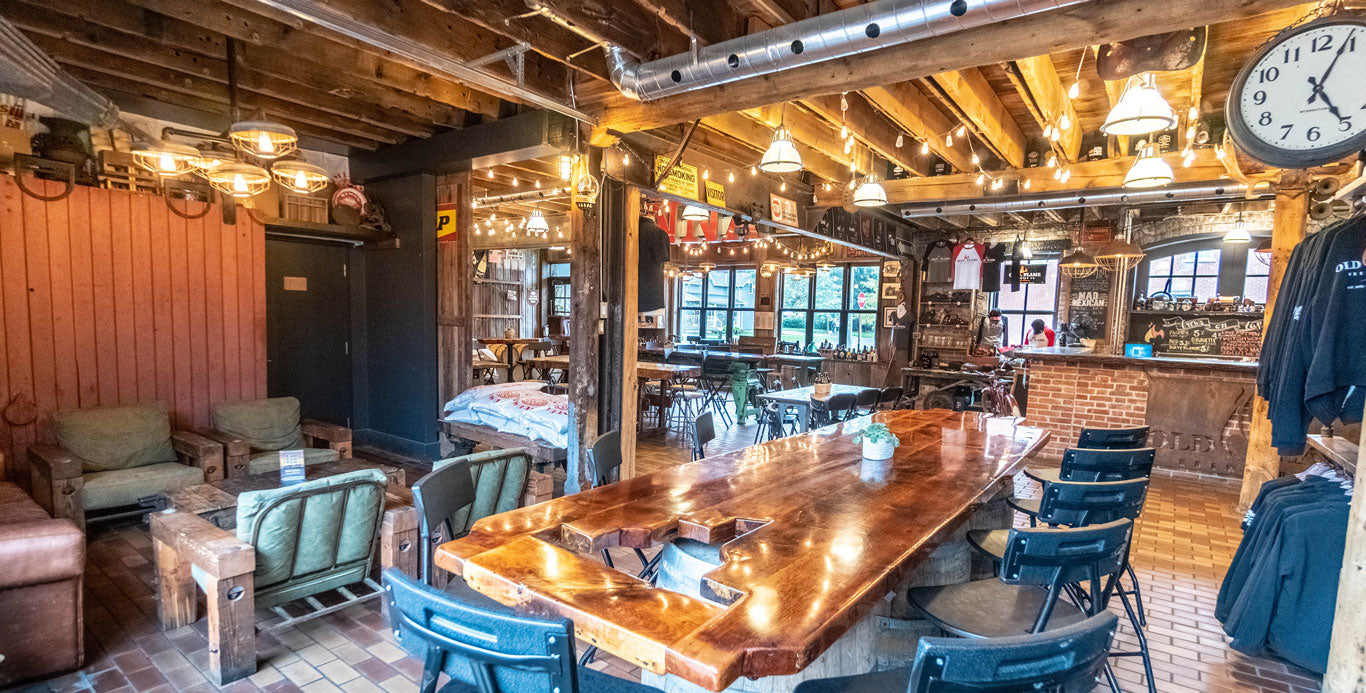 The Tasting Room
We would love for you to join us for a tasting or to fill up a growler with an award-winning craft beer. Every visit to our brewery is a captivating experience and are we confident you will find an Old Flame craft beer that is truly worth remembering.
Book the Room
Take A TOUR
Currently our tours are on hiatus due to restrictions with COVID-19 ! We can't wait to host you in the near future and share the stories of our incredible history, people and process. Stay tuned for a modified version of our tours!
Book a Tour