BLONDE LAGER INFUSED "ALMOST" NO-KNEAD BREAD!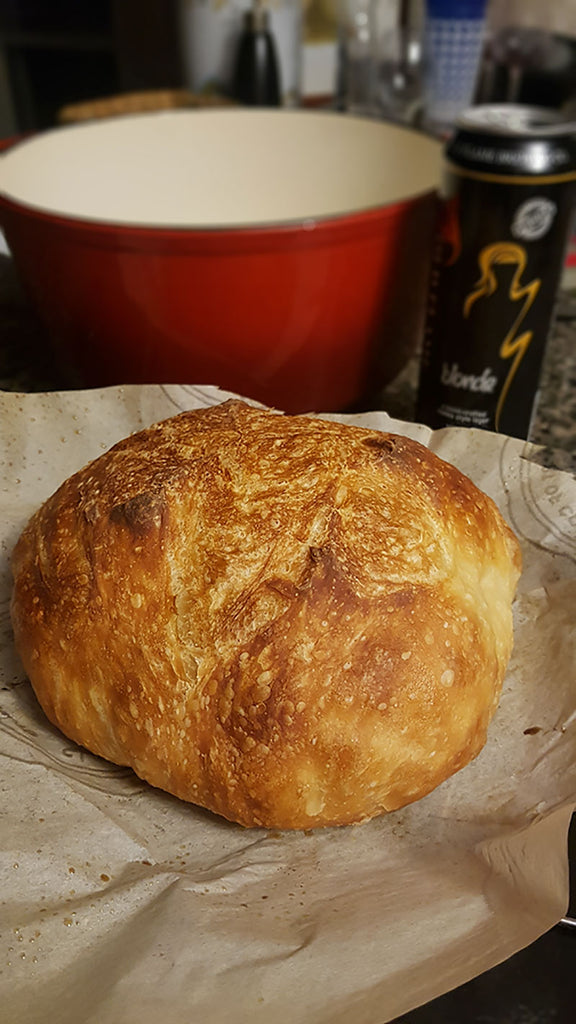 The similarities between bread and beer are pretty obvious, so why not combine the two? Try this recipe for an "Almost" No-Knead Bread incorporating our award-winning Blonde Lager. This is an easy recipe which produces a crusty bread that is perfect for sandwiches or as a fun addition to a beer and charcuterie night! The recipe is courtesy of American Test Kitchen from the book Bread Illustrated. This book is amazing for anyone who wants to get into the art of bread baking… simple instructions, amazing imagery, and best of all… troubleshooting tips! Find the ingredient list at the bottom of the page.
This bread has quite a substantial resting and rising period, so it is perfect to start the dough at night and then complete baking during a day off! This recipe requires only a 1/2 cup of the Blonde Lager …. which means there is some left over to drink while you complete the dough! 
Whisk flour, salt, and yeast together in a large bowl. Add water, lager, and vinegar. Using rubber spatula, fold mixture, scraping up dry flour from bottom of bowl until shaggy ball forms. Cover bowl with plastic wrap and let sit at room temperature for at least 8 hours or up to 18 hours.
The Slap and Fold method for kneading bread is easy for any beginner to learn! Push the dough out with the heel of your palm, then fold it in half… and repeat! You are kneading dough! 
Lay 18 by 12-inch sheet of parchment paper on a counter and spray with oil spray. Transfer dough to lightly floured counter and knead for about 1 minute. Shape dough into ball by pulling edges into middle.
Transfer dough, seam side down, to center of parchment and spray surface of dough with oil spray. Pick up dough by lifting parchment overhang and lower into heavy-bottomed Dutch oven (let any excess parchment hang over pot edge).
Cover loosely with plastic and let rise at room temperature until dough has doubled in size and does not readily spring back when poked with finger, about 2 hours.
Adjust oven rack to middle position. Remove plastic from pot. Lightly flour top of dough and, using a sharp paring knife, make a cross 6-inch-long, 1/2-inch-deep slit along top of dough. Cover pot and place in oven. Heat oven to 425 degrees. Bake bread for 30 minutes (starting timing as soon as you turn on oven). Be sure to have the pot in the oven as the oven preheats!!
Remove lid and continue to bake until loaf is deep brown, about 20 to 30 minutes longer.
Carefully remove bread from pot; transfer to wire rack and let cool completely, about 2 hours. If you can wait that long! Fresh bread is pretty hard to resist. 
Ingredients and Equipment
Ingredients:
3       cups all-purpose flour
1 ½    teaspoons salt
¼      teaspoon instant or rapid-rise yeast
¾       cup water, room temperature
½      cup of Old Flame Blonde Lager
1       tablespoon distilled white vinegar
         Vegetable oil spray
Required Equipment:
Dutch Oven
Rubber Spatula