May Community Partner: Port Perry Hospital Foundation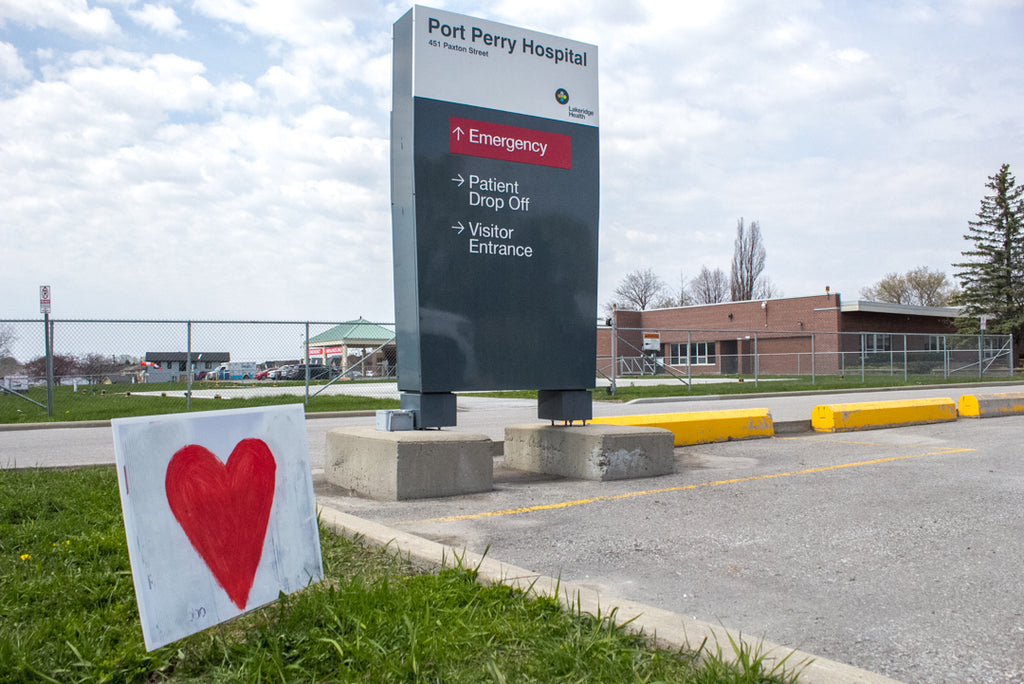 Each month we will be featuring an organization that works to make our community a better place. In addition to sharing their story, we will be donating a portion of our online sales each month to the non-profit organization, as well as have a donation prompt at checkout for those who can help support.
May's Community Newsletter partner is the Port Perry Hospital Foundation. Every donation made to Port Perry Hospital Foundation stays right here in this community. They've expressed that any funds raised during this initiative go towards their
Here for You
fundraising campaign. 
We chatted with Rachel Agnoluzzi, C.E.O. of the  Port Perry Hospital Foundation, to chat about how this campaign's mission to bring a CT scanner to the Port Perry Hospital as well as other essential equipment that is greatly needed.
"This is a tool that our medical team needs and will rely on. They are excited for the difference that this is going to make for their patients and the community," says Agnoluzzi. 
Currently, all Port Perry Hospital patients who need a CT scan are transferred to another hospital to have their scan before treatment can begin. A CT scanner is a standard of care physicians rely on, with scans used frequently to diagnose an injury or determine medical treatment, very often in emergency situations. With a CT scanner at the Port Perry Hospital, it will shorten time from assessment to treatment and in turn may save lives. 
"Port Perry Hospital is prided for providing excellent local health care. Having CT at the hospital will enhance that care,' says Agnoluzzi. 
A CT scanner is a missing diagnostic piece in Port Perry Hospital's emergency department, in-patient care ward and surgical program. In today's medicine, CT is the standard of care in diagnosing many medical conditions, very often in emergency situations including accidents, strokes, emergency surgeries, blood clots, Appendicitis and Diverticulitis, Vascular Emergencies, Cancer, Pneumonia and other respiratory concerns .
"Covid has affected our efforts because we can't have any events, so we are relying on people's support through direct donations and rely on our community partners as well," said Agnoluzzi when asked about how COVID has affected fundraising. 
The
Here for You
campaign has truly become a community initiative with many local businesses chipping in to help support such as Dana's Goldsmithing, Herrington's, North End Fitness, McDonalds, Port Cheese, Scugog Mechanical, The Nutty Chocolatier and Port Perry Print. 
"This campaign is going to take everyone contributing whatever they can to reach our goal. But I feel very confident that this community is up to the task to ensure the great service our local hospital is known for," mentions Agnolozzi 
Port Perry Hospital Foundation was established in 1979 with a mission to support the best in health care for our community at Port Perry Hospital. The Foundation is led by a committed volunteer Board of Directors, dedicated to supporting excellence in health care at Port Perry Hospital.
A CT scanner at Port Perry Hospital will only be possible with our community's full support. The easiest way to support is to go online a
www.pphfoundation.ca
, or speak to someone at the Port Perry Hospital Foundation about how you can help call 905-985-7321 ext. 45580. 
"We get back to every single call," concludes Agnoluzzi.