Valentine's Chocolate and Beer Pairing with The Nutty Chocolatier!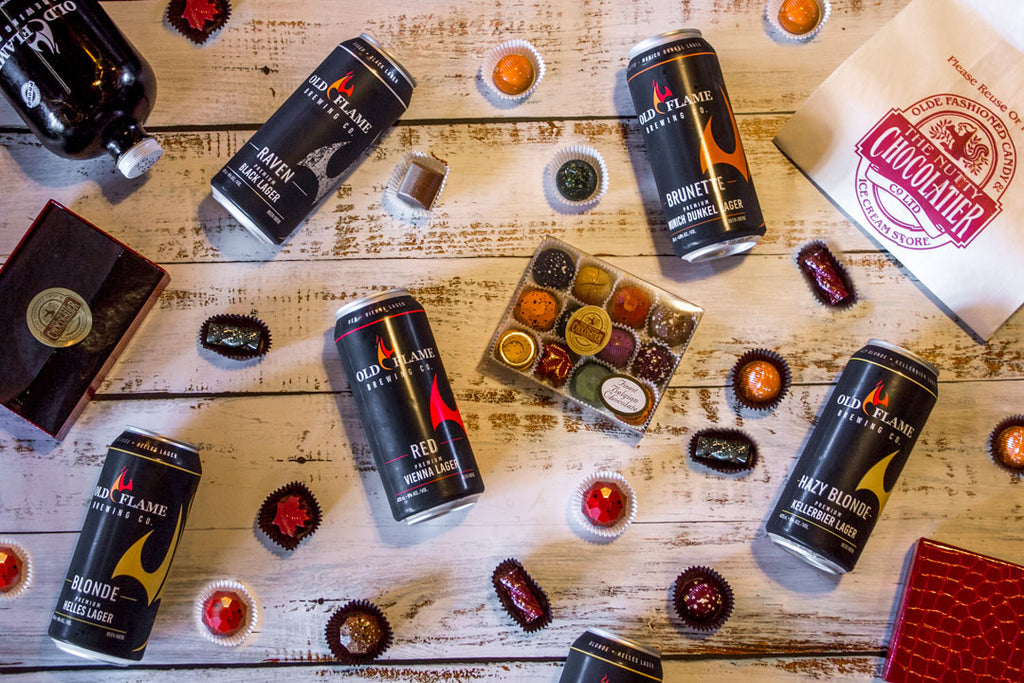 Our local sweet shop The Nutty Chocolatier in Port Perry 
has new airbrushed, hand painted chocolates to treat your sweetheart this upcoming love day🥰 We went through our beer line up and picked the best pairings to indulge in and to have fun trying different tastes to complement and contrast our brews!
Blonde Helles Lager: Honeybee, Rice Krispy, Pistachio, Champagne Truffle
Red Vienna Lager: All Spice, Butterrum, Chewy Caramel, Pecan Truffle or Cluster, Kirsch
Brunette Munich Dunkel: Filbert's Kiss, Praline, Hazelnut Shells or Crunch, Almond Halves
Raven Black Lager: Cappuccino, Maple Leaf, Islay Whiskey, Raspberry, Amaretto, Irish Cream
Hazy Blonde: Early Grey, Bergamot, Lime Caramel, Citrus Blossom, Passion Fruit
BONUS ROUND:
Imperial Stout: Vanilla, Mint Daisy, Sour Cherry, Raccoons, Coconut Cluster, Strawberry, Cherry Cheesecake, Speckled Rock
Mango Tango: Mango, Passion Fruit, Lime
Chocolate Orange Stout: Chocolate covered orange slice, Coffee Grand Marnier, Orange Hazelnut
The Nutty Chocolatier has the most impressive collection of sweet treats. Candy galore, No Sugar Added Chocolates, Fine Belgian Chocolate, Truffles and so much more. It is a must visit experience to witness the extravagant treats waiting to be enjoyed! The Nutty Chocolatier does offer delivery to Durham and Toronto on orders over $30.00 ! Happy Tasting!